9595 Cherry Valley, Suite A
Caledonia, Michigan 49316
(616) 891-1240
YOUR HEALTH AND SAFETY IS OUR TOP PRIORITY. With that in mind, our office is following the infection control recommendations made by the American Dental Association (ADA), the U.S. Centers for Disease Control and Prevention (CDC) and the Occupational Safety and Health Administration (OSHA).
CLICK HERE to read the details and what to expect at your next appointment. THANKS. See you soon.
At the office of Christopher Hier, D.D.S. we strive to deliver the absolute best dental care possible in a warm, friendly atmosphere. We will do anything and everything to ensure that you are comfortable, relaxed and completely satisfied with your visit.
Dr. Hier has been providing quality dental care to residence of Caledonia, Middleville, Hastings, Kentwood, Wayland, Byron Center and much of southern Kent county since 1998.
As a family dentist we enjoy seeing the smiling faces of children and adults alike and specialize in everything from teeth cleaning, fillings, crowns and veneers to teeth whitening, bleaching, implants, clear braces – and much more.
If you're new to the area, looking to switch dentists, have a dental problem or just haven't had your teeth looked at for a while, we offer a FREE CONSULTATION. So stop by and let's talk. We want you to feel comfortable and confident with your dentistry choice.
Our knowledgeable staff is always happy to discuss any questions or concerns that you may have. Call or stop in to schedule an appointment. We look forward to meeting you.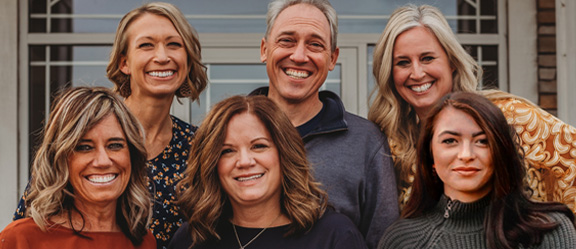 Our patients are our best advocates –
"Dr. Hier has just the nicest people working for him. I really enjoy bringing my whole family to see him."
NEW PATIENTS ARE ALWAYS WELCOME.
Hier Family Dentistry complies with applicable Federal Civil rights laws and does not discriminate on the basis of race, color, national origin, age, disability, or sex.
9595 Cherry Valley, Suite A   |  Caledonia, Michigan 49316 |   (616) 891-1240
---
Smiles happen.
9595 Cherry Valley, Suite A
Caledonia, Michigan 49316
(616) 891-1240